Sourcing Journal has branded Inspectorio as a lifeline for companies with overseas supply chains during COVID-19. Their new article illustrates how Inspectorio's capabilities empower remote inspections, collect staggering amounts of data, and harness machine learning to keep supply chains afloat even as others grind to a halt.
As the premier publication on sourcing and manufacturing, Sourcing Journal has a unique, wide-frame view on supply chains during the coronavirus outbreak. "For years, the industry has been preaching 'digitize or die,'" begins their recent article. "But there was no way anyone could have known how true those words would come to be."
The Inspectorio platform, with its ability to empower remote self-inspections of factories and convert vast amounts of data to actionable insights through artificial intelligence (AI), allows companies to "easily take rapid action to increase accountability of vendors and factories,"- Writes the journal.
It has allowed companies to suddenly create visibility in keys parts of their supply chains.
Business as usual is over for now. There is no more jetting across the globe to sign off on samples or conduct inspections — everything must instead happen remotely.
"For brands and retailers to be more cost-efficient and monitor quality remotely, they need to rely on automation and real time visibility."

David Klein, President and Co-Founder at Inspectorio.
Companies that took the initiative to go digital are now faring much better than those using conventional, analog practices. Whether it's using 3D modeling to develop products or giving factories the ability to perform inspections instead of using third parties, digitized companies are now powering onward as clunky processes weigh their competitors down.
For companies that rely on inspections to maintain quality and output, Inspectorio has proven an invaluable tool during this crisis. Those using the platform "have been able to uphold quality standards, avoid costly defect-remediation cycles, and circumnavigate travel bans for inspectors through the use of factory self-inspections."
Quickly determining factory risk is one of Inspectorio's greatest assets. Machine learning removes bias and subjectivity from the process, drawing on continuous data from millions of inspections to provide clear, insightful statistics. That means decision-makers can act quickly and confidently — a necessity in an era when excessive mistakes can prove fatal to brands.
Sourcing Journal notes one of the most relevant assets of Inspectorio: its elimination of the need for costly on-site visits. Thoroughly trained and vetted inspectors respond to AI-generated prompts, paying closer attention to high-risk areas within each factory. Each step is visible to all stakeholders, creating a new level of risk prevention for brands.
"This level of visibility and risk prevention fixes quality problems much faster by surfacing patterns that normal pen-and-paper analysis might miss,"

Sourcing Journal.
Self-inspection data, AI-powered vendor risk management, and more informed decision-making comprise a success formula for brands right now.
The good news is that there's still time to make the switch, particularly since the Inspectorio platform can be integrated in days.
Those companies that have been slow to adopt digital tools will likely be forced to reevaluate their practices. For all brands that intend to survive this crisis, Sourcing Journal concludes that "digitizing their operations, including their supply chains, is likely to be a key strategy for survival."
Inspectorio SIGHT is an end-to-end quality control platform that digitizes and optimizes pre-production, inline, final, warehouse, and remote inspections across the global production chain. SIGHT leverages advanced data analytics and machine learning to assess risk and recommend predictive actions to drive continuous improvements. With a fully configurable platform, you can standardize and automate quality operations for increased visibility and collaboration across your supply chain. Shift your quality operations from reactive to preventive.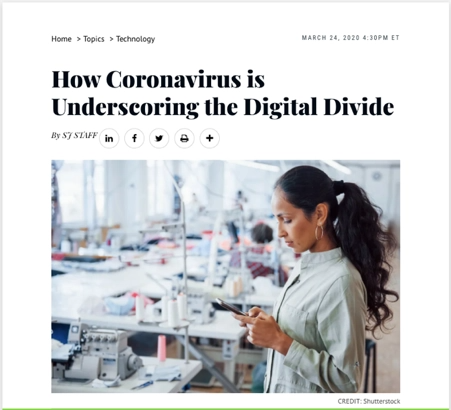 Click here to read the original journal article.
To find out how Inspectorio can make your company more immune to interruptions caused by coronavirus,
request a demo
Solicitar una demostración